No matter what style or theme you choose to decorate the baby's room, a personalized throw pillow makes a great accent. Whether it's a birth announcement pillow with all the details of your little one's birth, or just the new baby's name, the nursery will have a charming personalized touch.
Decorative Accents for the Nursery
It's easy to add an accent pillow for the nursery. These are just a few of the designs available, but some of the ones that work great to add to the baby's room decor.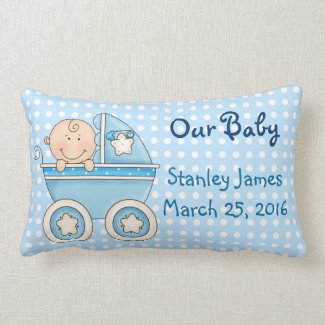 Cute New Baby Boy Pillow
by
kidsonly
Available from Zazzle
Click for Details
Vintage Sleeping Baby Personalized Pillows
by
jardinsecret
Available from Zazzle
Click for Details
Baby Birth Keepsake Throw Pillow
by
amykaren
Available from Zazzle
Click for Details
Ideal Gift Ideas
There are plenty of standard gift ideas for new babies, but a personalized pillow for the nursery is a unique one. Choosing a design that will work with the nursery decor makes a great gift. But, choosing a design that is charming and delightful for the baby is also an ideal gift. Sometimes, it's just the image with the child's name that will make the difference.
If you know all the birth stats for the baby, adding them to a pillow is a wonderful treat for the parents. Although, I prefer the beautiful look of a perfect saying that brings to your eyes. My favorite is "your first breath took ours away." It seems to say it all for the love of parents toward their beloved baby.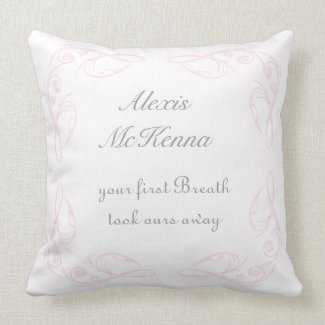 Baby Girl Quote Keepsake Throw Pillow
by
QuoteLife
Available from Zazzle
Click for Details
Incredible Designs, Amazing Quality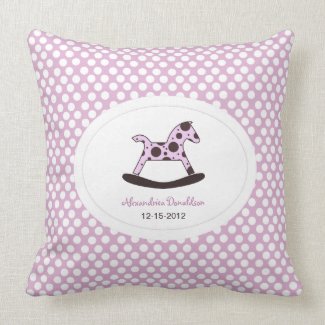 Personalized Newborn Pillow
by
SayItNow
Available from Zazzle
Click for Details
Each of these pillows featured are from the talented designers at Zazzle. I am always amazed at the incredible design choices for everything available. Not only great designs, but great quality as well. The pillows have a 100% cotton cover, which is easily removed for machine washing. Soft and beautiful, what a great combination.
Besides that, the ability to customize them with your own text is so easy. It's just a process of fill in the blanks. Nothing tricky about that. And you have a full satisfaction guarantee so you can order a personalized baby pillow with complete confidence.
See lots more designs for baby accent pillows for the nursery from Zazzle and choose the perfect one for the new baby in your world.